MAKE A GREAT IMPACT
Our company aims to be a business that has both an impact on the world around us and a reason to be. We provide products which satisfy our customers in cooperation with local society on the basis of the idea that "We have been chosen to take care of this nature, the clean air, water, and bountiful land, for future generations." In order to realize this, we will strive to establish and improve our management system through the education of our staff.
Policy
We will provide products which satisfy customers and accurately meet their needs.
We will plan to establish a management system, and carry out effective operations and continuous improvements.
In order to deepen our high technical capability and knowledge, we will carry out systematic education and training.
We will strictly adhere to relevant laws/regulations and other necessary items our company agrees to.
We will make quality improvement, safe working, and pollution prevention our goals and strive to realize them.
We will strive to provide products, services, and take part in activity which puts the global environment, local environment, and work environment first.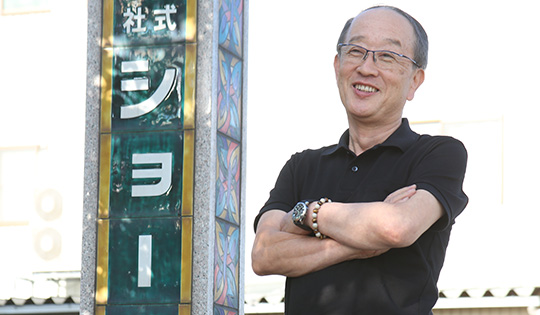 President and Representative Director: Yukio Takahashi
Company Overview
Company Name

Syohatsu Co., Ltd

Representative

Yukio Takahashi

Capital

10 million yen

No. of Employees

Male 53/Female 23, Total 76 [Average age: 35.5]

Head Office

21-1 Yatanomachi, Komatsu-shi, Ishikawa-ken, 923-0342
PH: 0761-43-0521 Fax: 0761-43-2125

google map

Secondary Factory

32-3 Yatanomachi, Komatsu-shi, Ishikawa-ken, 923-0342
PH: 0761-48-6070 Fax: 0761-48-6071

google map
Primary Clients
Komatsu (all factories)
and many others
[titles omitted/random order]
Company History
1992

Syohatsu Co., Ltd established

1998

New facility completed

2004

Acquired ISO9001 (2000 version) certification

2006

Acquired ISO14001 (2004 version) certification
Increased number of machines at factory

2009

Second factory completed

2013

ISO 09001 (2015 version)
ISO 14001 (2015 version)
Primary Equipment
| Primary Device Name | Ability | No. of Units |
| --- | --- | --- |
| M/C VCN-530C | 550 * 1300 | 1 |
| Microprocessing carbonic acid gas laser | Plate cutting thickness 0.003mm-19mm | 8 |
| 1KW/1.8KW Fiber laser | 1000 * 2000 | 1 each |
| Water jet cutter | | 1 |
| Hydrogen gas cutter | Plate cutting thickness 16mm-100mm | 1 |
| NC servo press/power press | 150 ton and other | 12 |
| NC servo brake press | 150 ton/125 ton/80 ton/50 ton/18 ton | 1 each |
| Vertical machining center | 510 * 1000 | 1 |
| Vertical machining center | 510 * 800 | 3 |
| Automatic ultra-hard circular saw cutter | 5Φ~70Φ | 1 |
| CNC lathe | | 3 |
| Automatic lathe | | 1 |
| Flat grinder | | 3 |
| Parallel flat honing grinder | | 1 |
| Automatic deburring machine | | 2 |
| Rotary grinder | 1000Φ | 1 |
| General-purpose lathe | Maximum 900Φ | 1 |
| Sandblaster | | 2 |
| Bandsaw | | 1 |
| Barrel grinder | | 3 |
| High-precision shear | | 1 |
| Drill press | | 5 |
| Semi-automatic welder | | 9 |
| Welding robot | | 1 |
| Argon welder | | 4 |
| Synchro feed Welding robot FD-B6 | | 6 |
| Spot welder | | 1 |
| Precision leveler | | 1 |
| Parts washer | | 1 |
Inspection equipment
| Primary Device Name | No. of Units |
| --- | --- |
| 3D scanner type three-dimensional measuring machines VL-350 | 2 |
| Digital microscope VHX-6000 | 1 |
| CNC 3D measuring device | 2 |
| Image measuring device | 1 |
| Surface roughness, contour shape composite measuring device | 1 |
| Magnetic particle tester | 1 |
| Microvickers hardness tester | 1 |
| Rockwell hardness tester | 1 |